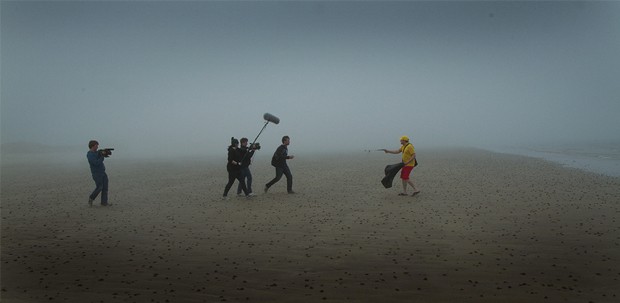 "I can honestly say that Northern Stars was one of the best things I've ever done. Thanks to it I'm now completely committed to pursuing a career in the film industry." Northern Stars Film Academy Graduate
Tyneside Cinema is looking for 15-18 year-olds from across the North East who are passionate about making films and serious and committed enough to take part in our award-winning Northern Stars Film Academy.
What Is It?
Devised and ran by leading industry professionals, the Northern Stars Film Academy is not your average filmmaking club. This intensive five-month programme gives aspiring filmmakers training in a wide range of skills, including scriptwriting, directing, producing, cinematography, sound recording, production design and editing. Working from scripts created in the Academy, the filmmakers create a series of high quality short films on a week long residential at a secret location somewhere in the North East. Once completed the films have their world premier on the big screen at Newcastle's fabulous Tyneside Cinema before going on to enjoy life at film festivals around the UK and beyond.
Who Is It For?
The Academy is open to anyone aged 15-18 from across the North East passionate regardless of means. Graduates of the Northern Stars Film Academy have used their experience to secure places at university, gain employment in the film industry and make their own independent productions. In 2012, as a direct result of their work at Northern Stars, two graduates from the Academy went on to be selected for the BFI Talent Campus at the National Film and Television School.
---
Funded by:
---
ABOUT NORTHERN STARS FILM ACADEMY
Northern Stars is a project of Tyneside Cinema that discovers and nurtures the filmmaking talent of tomorrow. We offer training and employment to some of the North East's most talented young filmmakers.
Our award-winning Young Filmmakers' Academy for 15-18 year olds offers training in both Fiction and Documentary production, and is an entry point for young people interested in building a career in the film and television industry. Participants in the academy work alongside industry professionals to learn a wide range of skills leading to the production of a series of short films that are premiered at Tyneside Cinema.
Our highly successful Northern Stars Production service offers academy graduates the chance to further develop their skills co-creating work in a professional environment for paying clients. In 2012, our young filmmakers made films for P&G, East Coast Trains, Arts Council England and BBC. Our film for the National Football Museum about Photographer Stuart Roy Clarke was runner-up at the Royal Television Society NE and Borders, beating off stiff competition from the region's grown up competition.